Dogknife on the Front Line against Fracking.
Peaceful-but-militant opposition to fracking occurs daily in Lancashire.
Approximately 5 miles south-east of Blackpool is a non-violent direct action protest area on Preston New Road, or PNR. This area is home to three or four anti-fracking camps, nicknamed The Gate, Maple Farm and New Hope. There is a fourth camp that remains off-radar but all the camps are occupied 24/7 and are home to some of the most dedicated and selfless people from all walks.
The Gate camp within the PNR Anti-Frack Protest
The Gate is where, for months-on-end, brave and proud people have literally lived on a pavement in tents, under tarpaulins, in rain and shine, and everyday tirelessly joined together to non-violently confront the heavy goods vehicles travelling in and out of the Cuadrilla site. As any of Cuadrilla's supplier's vehicles near The Gate camp, regularly preceded by police vans with blues flashing, a handful of The Gate protesters make their way towards the road, triggering heavy-handed Lancashire cops to rush forwards to grab, push and punch to keep them back. Unnecessary police tactics (such as closing entire roads when only one side of the road is blocked or 'man-marking' single protesters in the area when convoys travel through) and excessive police violence is an everyday occurrence at PNR and Green Party MEP Kieth Taylor last month publicly called for an inquiry into police handling of peaceful anti-fracking protesters at the site.
A recent Guardian piece covering aggressive police tactics at PNR
The police operation is reported to cost a staggering £450,000-a-month to ensure Cuadrilla can attempt to utilise their licence to frack even after Lancashire County Council planning officers rejected Cuadrilla's plan based on 'noise concerns and blotch on the landscape' concerns. Westminster, in a clear bid to keep its big business cronies happy, squashed the local red-tape which had helped to keep fracking away for a short time (less than a month before Cuadrilla were back with a revised plan and appeal to the government) and since the beginning of this year, Cuadrilla have had sanction to do pretty much as they please.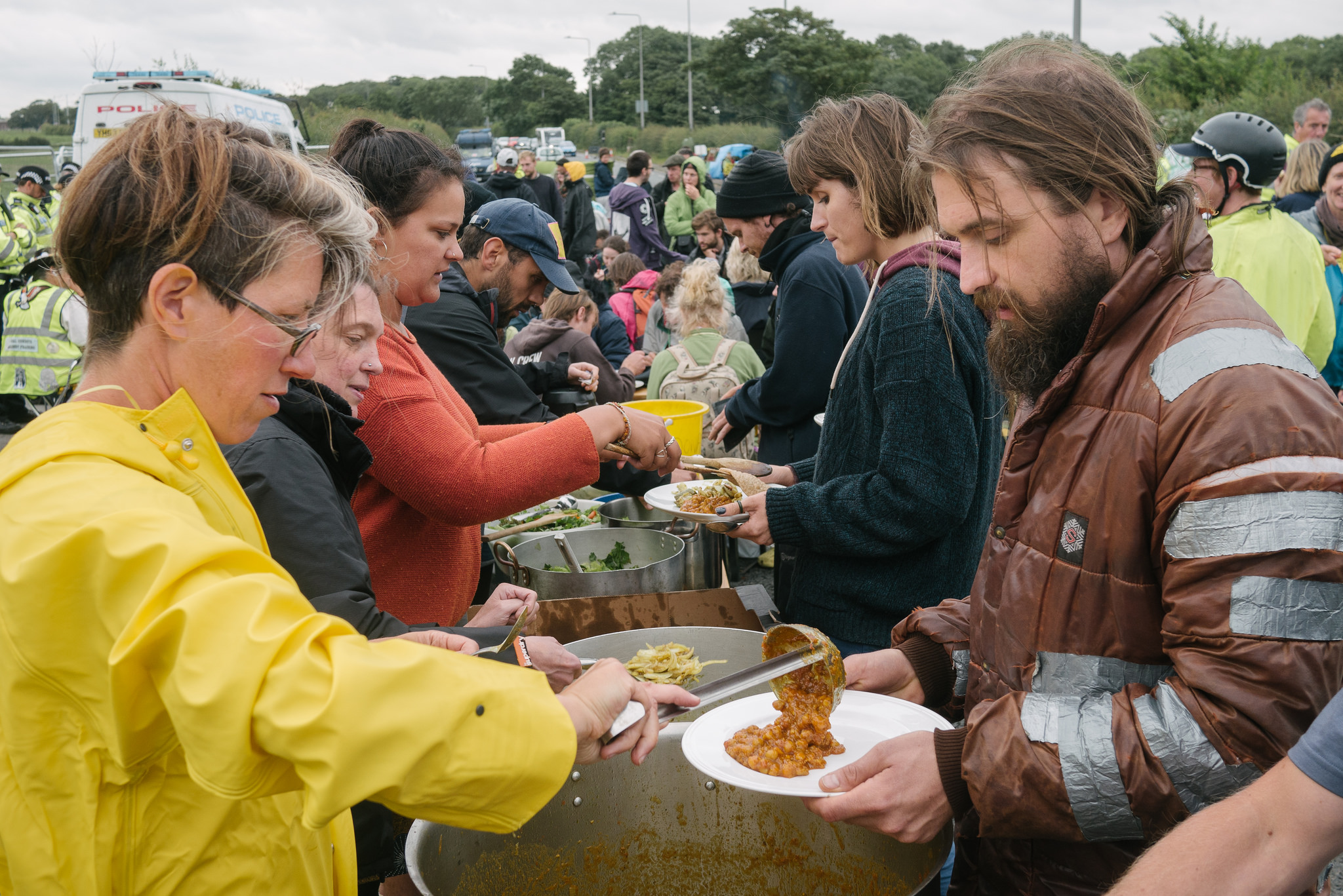 Hundreds of anti-frackers were fed in a long line outside Cuadrilla's site, shutting it down for the Carnival For A Frack Free Future, Friday 28th July 2017, for Reclaim the Power's Rolling Resistance
Even though North Wales Police pulled out of the protection of Cuadrilla's interests two weeks ago, citing the fact cuts to police budgets in Walesare already hitting community services, there are still 140 Lancashire officers and a compound full of police vehicles, 4x4s, vans and squad cars, on deployment round the clock to protect their corporate interest. A private security firm of goons also occupies the site, with a catalogue of violent incidents at PNR to their name. It seems cops and security love battering people around who want only to use their right to peacefully protest.
Disruption at the PNR site often comes with protesters – some seasoned, some newbie – locking on to concrete blocks outside the gates or in the road or marching en-masse to close the gates and stop any Cuadrilla-related traffic from coming through.
A protester stands atop a water tanker attempting to get into the site to drain flood water from the rig pad. Work was stopped for a day because of this peaceful action.
It could be argued that only in the last month of July have the police and Cuadrilla's suppliers really been tested as Reclaim the Power, a seasoned and organised direct action group, held a four-week gathering at PNR, based at Maple Farm, which they called Rolling Resistance. The Rolling Resistance held lock-ons and road blockages almost daily and saw over 75 people arrested and multiple days of Cuadrilla's awful work thankfully halted.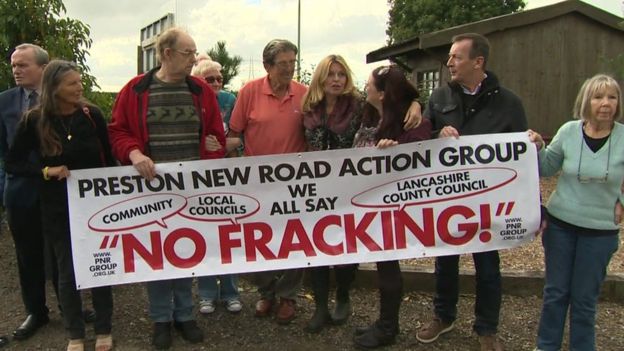 Locals have always protested Cuadrilla's presence in the Lancashire countryside.
However amazing RtP's organisation and creativity was, nothing can be taken away from the actions over the months and years of the dedicated campers at The Gate, Maple Farm, New Hope and beyond, many of whom were arrested for the umpteenth time during July. They, the founders of the camps, the locals who day-in-day-out feed each other, laugh and cry with each other, raise kids together and stick at it no matter what, are the foundation upon which Reclaim the Power were able to throw some of their best actions at Cuadrilla. Wherever it started, who ever started it, the resistance to fracking is here, live and happening everyday on Preston New Road.
A lone-protester locks-on to a one-ton barrel inside a transit van, a new tactic at PNR that police aren't used to. The Cuadrilla fracking site was closed for a day as a result of this peaceful protest organised by Reclaim the Power and other activists.
The fact that Cuadrilla needed to sneak a large piece of fracking rig onto its site at 4.30am on the morning of Monday the 31st July, itself a breach of the supposedly rigid planning permission laws laid down by Lancs' County Council, surely shows that cracks are appearing in both the resolve of the corporation and the police, who both have started shifting tactics towards faster truck convoys along the small, busy roads and more police violence aimed at anyone in the way.
Part of the £450,000 per month police operation to keep Cuadrilla's profits on target.
In comparison, the protesters fear nothing except a poisoned planet.
Expect more news from the anti-fracking front soon…..very soon.